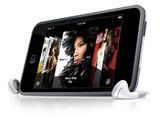 Host : I Share Happiness
URL : Win A Brand New iPod Contest
Prize : 8GB iPod Touch
End Date : 24 March 2008

How To Enter:
Click on the Contest URL above and follow the instructions to gain yourself some entries.
For Non-Bloggers:
- Email 50-100 of your friends to tell them about the contest
- Link their blog in your social networking site
- Comment on their blog posts
- Add their blog to your Technorati faves

For Bloggers:
- Blog about the contest in about 100 words with links to the contest post and their blog
- Permanently link their blog as "UA&P - I Share Happiness" to your sidebar
- Comment on their blog posts

Each action done gives you points and you will need to collect 15 points to get one entry in the drawing. If you are a non-blogger or blogger, you will have to do all that is required to get the full 15 points which is equivalent to 1 entry. There are ways to get additional points. You will need to click on the contest URL above and read the contest post for full details.